Virtual Smart Agent – Your Sales Person in a Box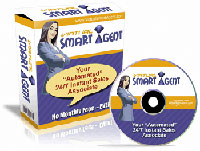 Being a real numpty, I always wondered how Internet Marketers could afford to have a live person establish an online chat with me when I went to leave their sales page. I was amazed that someone was just waiting for me to visit their page and then try to navigate away. You see I am in Australia and most of the websites I was visiting were in the US. When I was surfing, it was still night time there.
Imagine my surprise when I discovered Virtual Smart Agent (VSA). I found out that there may not have been a live person talking to me, rather a piece of very smart code driving a fully customizable database just set up to answer my questions. When I found Virtual Smart Agent I decided to see what else was around. What I found was that, VSA was great value for having Virtual Live Chats on my web pages. VSA was available with one off payment, where some of it's competitors had ongoing monthly fees.
The best thing is that Virtual Sales Agent is so easy to use. VSA comes with a sample database set up that you can use "out of the box" for most sales pages, however, it's strength is in the way you can set it up for your own needs. You can run multiple campaigns on copy.
VSA allows you complete flexibility to respond to as many keywords that may be entered by a potential customer as you care to enter. . If your customer asks a question in the Virtual Live Chat that you have not set up an answer for, VSA will flag the question for you so you can edit the database to answer similar questions in the future. Not only that, but Virtual Sales Agent can prompt the customer to enter their email address so you can answer their question personally.
The strength of Virtual Smart Agent is that it is a great conversion tool. We use VSA to offer either discounts or bonuses to further prompt a buy response from the potential customer.
If you are wondering if it is too hard to set up, don't. VSA comes with a heap of video tutorials on how to get it up and going. It took me about 1 hour from downloading the file to having my first campaign set up and operational – and I had no idea what I was doing. Now, it take about 15 minutes to set up a new campaign.
I highly recommend Virtual Smart Agent as Sales Conversion, or even Sales Saver, tool.  Grab your copy today Virtual Smart Agent (VSA)