Podcast: Dr Sally Witt On Life & Social Networking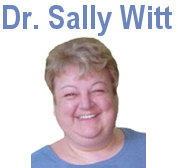 On Monday, I interviewed Dr Sally Witt from drsallywitt.com and what a great interview it was! I truly appreciate how open and giving Dr Sally was during the interview and it may surprise you to hear some of the things she had to say! Thank you Sally, for your time on this interview.
Sally is a wonderful lady, who has a lot of skills and talents. Dr Sally has a Ph.D. in Spiritual Counseling, and has a unique background in traditional psychology as well as intense alternative and metaphysical training. She not only provides individuals and families with coaching and individual therapeutic sessions, but she provides support groups, corporate consulting, trainings and demonstrations on a wide variety of topics.

I first met Sally on Women Internet Marketers and then through Julie Wolfs and Carol Deckerts Skype rooms. I think it's far to say that once we met, we connected immediately with each other.
I wanted to interview Dr Sally because she was has such a wide and varied background, and I really wanted to get to know more about her.
For example, Dr Sally worked in IT with SAS Institute and Apple, she has run her own Real Estate Franchise (with her family), she is a "breakthrough coach" and specialises in hypnotherapy, whilst now helping business people (particularly Real Estate Agents) harness the power of Social Networking. Wow! That's an impressive list.
I find it interesting to listen to how Dr Sally has pulled her varied talents together to coalesce in the business she is now doing. However, I don't want to spoil the interview – enjoy.
Standard Podcast
[ 1:02:18 ]
Play Now
|
Play in Popup
|
Download