Internet Success System – Success For You!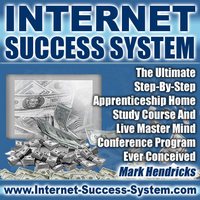 I am a member of Mark Hendricks Internet Success System and get enormous value of it. Marks approach is to make Internet Marketing straight forward. ISS is a home study course that teaches you everything you need to know about building your own successful internet-based business.

I can't speak more highly of the Internet Success System Basic Membership level.
As a basic member, I get access to the two coaching calls each month. One led by Mark himself, the other a Mastermind group led by Jim Loesch. What I love about these calls is that they are interactive, you can ask questions and not only do Mark or Jim respond, but others on the call respond and provide valuable insight from their own experiences. These calls are a lecture, they are a true coaching session. I have taken advantage of these opportunities to clarify issues for myself and have participated in the review of a new site for one of the call members – it is that easy and that powerful.
The ISS Basic level includes:
- the complete Home Study Course (there is nothing more complete)
- all of the archived monthly MasterMind teleconferences (over 40)
- all future MasterMind teleconferences (this is how all the ISS members
stay current on new strategies, tips and techniques, and Mark personally
answer questions from all members)
- access to the ISS Members only Forum
According to the statistics, Internet Success Program has a 91% retention rate. That means that out of 100 people who join the program, 91 stay and become long time members. That is an amazing retention rate.
Mark has recently introduced a monthly payment for the basic level membership, so that even more people will be able to benefit from the great program that he has put together.
So, I encourage everyone to look at this package and the offer and then take advantage of it. The Internet Success System Basic Level Membership.
Want to know more about Mark Hendricks? Then join me on May 15 at 7pm EST as I interview Mark about his background, experience and the Internet Success System. I conduct regular Internet Marketing Teleseminars with successful Internet Marketers, to find out what makes them tick and about their businesses.