Blogging, SEO and Twitter
On April 29, I reported that just using Twitter as a mechanism to increase your blogs rankings in the Search Engines wasn't going to work, simply because the Twitter links are marked "No Follow".
So, to continue my SEO experiment, I left my blog running and turned on pinging services. The results are far more interesting.

Here is the screen shot today of the Google results for my site: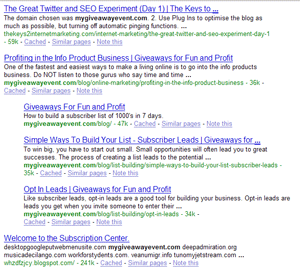 What's interesting to note, is that this blog gains top rankings in the search, even though I don't have hyperlinks to the site.
The last blog post for the site in question went out on May 2, two days ago and you can see the results so far.
So no definitive results yet. But more next week, enjoy.